Back
Symposium Naples 2023
Symposium Naples 2023

Symposium on the State of the Art in Esophageal Atresia (EACCME accredited)
23 SEPTEMBER 2023 - ONLINE / NAPLES, ITALY
HOSTED BY THE ITALIAN SOCIETY OF PEDIATRIC SURGERY (SICP)
Join us in an interactive symposium on the treatment of Esophageal Atresia, Airway Malformations, and complications presented by four European Expert Centers!
The program for the TEACHER symposium includes the following topics:
- Type C Esophageal Atresia (Chair: Prof. Paolo de Coppi & Prof. Salvatore Chiarenza)
- Long gap Esophageal Atresia (Chair: Prof. Pietro Bagolan & Dr. Andrea Conforti)
- Esophageal Stenosis (Chair: Assoc. Prof. Maud Lindeboom & Prof. Salvatore Chiarenza)
- Tracheoesophageal Fistulae (Chair: Dr. Colin Butler & Dr. Stefaan Tytgat)
- Tracheomalacia (Chair: Dr. Jan Svensson & Prof. Maurizio Cheli)
Interested? Sign up and register now! (Note: This is a hybrid event)
Register for the symposium here.
Want to attend in person? Please also register for the SICP congress here.
For any questions, please contact project manager Nikki Giron at n.giron@umcutrecht.nl
The TEACHER: State of the art in Esophageal Atresia, Naples, Italy 23/09/2023 - 23/09/2023, has been accredited by the European Accreditation Council for Continuing Medical Education (EACCME®) with 3.5 European CME credits (ECMEC®s). Each medical specialist should claim only those hours of credit that he/she actually spent in the educational activity.
Through an agreement between the Union Européenne des Médecins Spécialistes and the American Medical Association, physicians may convert EACCME® credits to an equivalent number of AMA PRA Category 1 CreditsTM. Information on the process to convert EACCME® credit to AMA credit can be found at https://edhub.ama-assn.org/pages/applictations .
Live educational activities, occurring outside of Canada, recognised by the UEMS-EACCME® for ECMEC®s are deemed to be Accredited Group Learning Activities (Section 1) as defined by the Maintenance of Certification Program of the Royal College of Physicians and Surgeons of Canada.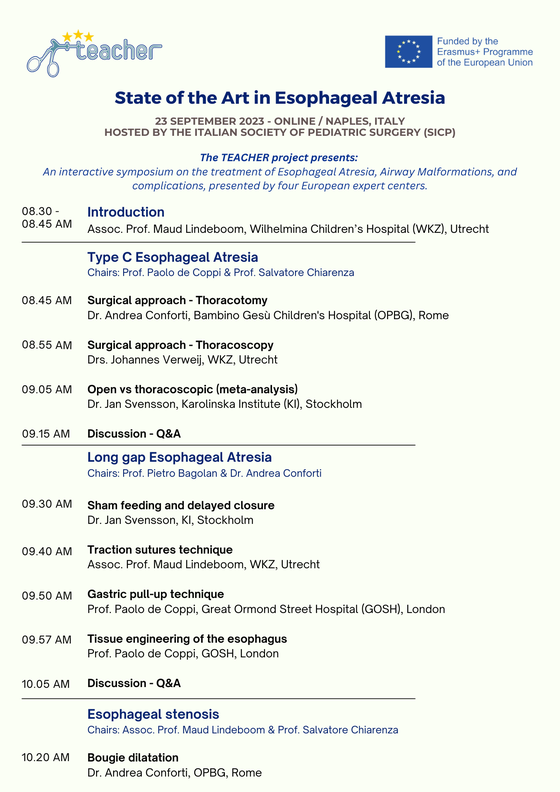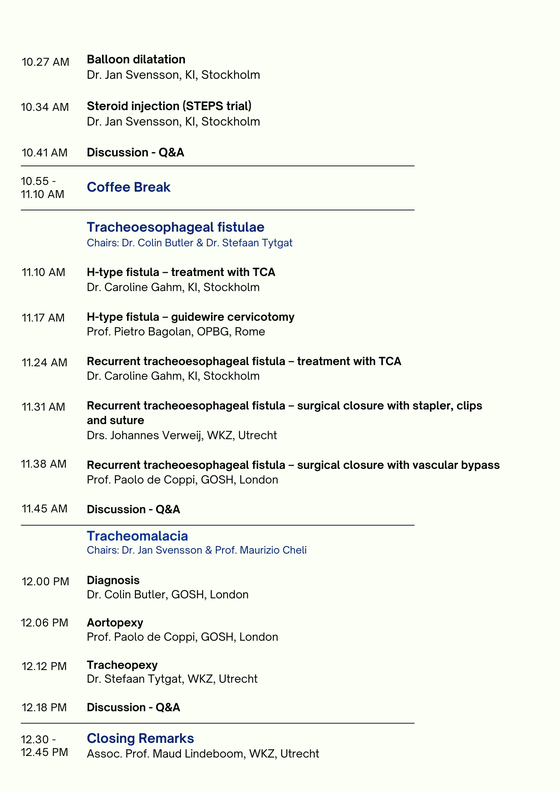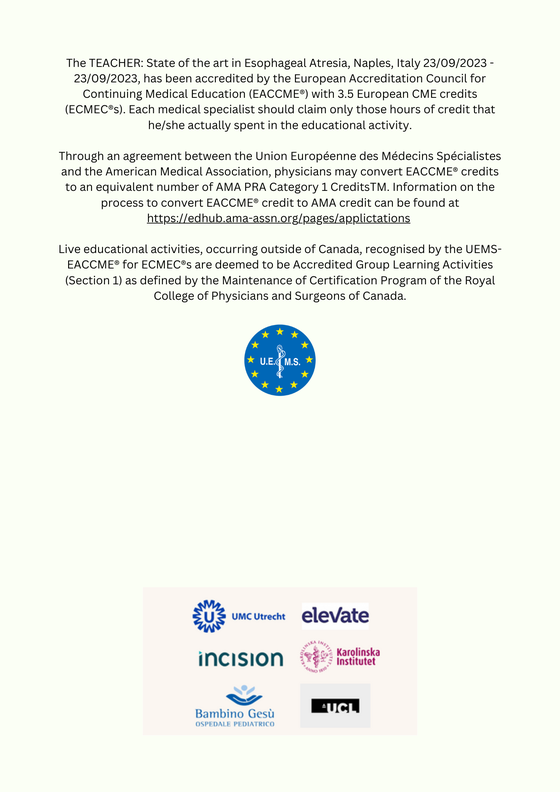 Thank you for your review!
Has this information helped you?